By Kent Nishimura, Kapi'o Staff Writer/
Since 2010, there has been a steady increase in both enrollment and the awarding of degrees and certificates within the University of Hawaii community college system.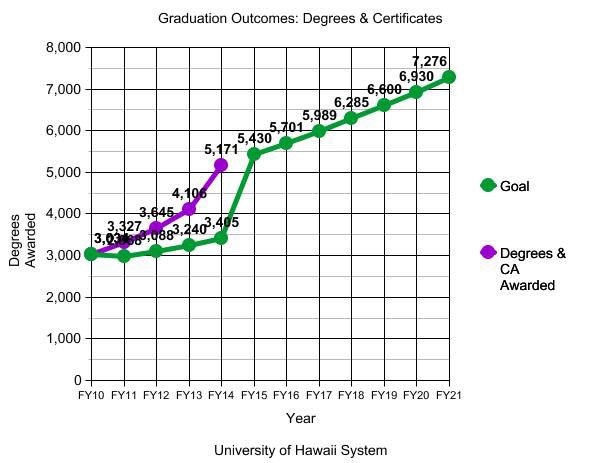 In the 2014-15 academic year, Kapiolani Community College alone awarded 2,200 degrees to students (446 participated in commencement exercises at the Hawai'i Convention Center). Over the next decade those numbers are only expected to continue to increase.
But while numbers don't lie, they also don't tell the entire story.
KCC enrollment increased to 9,301 in 2014 from 8,376 the previous year. Yet, the community college campus at the foothills of iconic Diamond Head recorded 2,278 individual course withdrawals from students in the liberal arts program. Some 70.6 percent of liberal arts students continued on from the fall to the spring semester; only 46 percent of students persisted from fall to fall, meaning that less than half of the students returned the following year.
This data however does not account for students who transferred to other community colleges, or to four-year institutions like UH Manoa, or even students who received a two-year degree or certificate and opted not to continue their education.
The statistics suggest some interesting questions. What contributes to students not returning to college before they have completed a degree program. And why does it often take students longer than the intended time-frames to complete their degrees?
According to the University of Hawaii Community College Instructional Annual Report of Program Database, about 50 percent of liberal arts majors at KCC are part-time students, meaning they take less than 12 credits a semester and are most likely working part time to help pay for school.
Wai Nam "Hebe" Lam graduated from KCC in Spring 2015 with an A.A. in Liberal arts. This fall she is attending the Academy of Art University in San Francisco, studying interior architecture and design. Lam took a year and a half break while at KCC, which lengthened the time it took her to complete the requirements for her AA degree.
"It's hard sometimes for students when they find a job they enjoy," said Lam. "Like for me, I just wanted to make money and live life and not worry about school."
Lam said she made decent money working as a server at a restaurant and school became an afterthought for her. After spending almost a year and a half out of school working full-time, she began to analyze her choices and got introspective about what she wanted to do with her life.
"I looked at an older lady who worked with me," said Lam. "I don't want to be like her when I grew older. I realized I need to finish school, that's why I came back."
UH system administrators have become increasingly concerned about the length of time it takes students to finish programs and be awarded their degrees.
"We saw students were taking six years to do a four-year program, and that's not good," said Louise Pagotto, KCC Vice Chancellor for Academic Affairs. "All the extra time students are in school equals lost wages from not being in a job."
At the community college level, many students were taking anywhere from three to five years to complete an associate's degree, which is typically considered a two-year degree.
The 15 to Finish campaign was launched as part of a larger statewide initiative to encourage students to graduate on time. This followed a national trend of colleges and private industries working to increase the number of workers with a college degree.
The goal of the 15 to Finish campaign is to get students to complete 15 credits per semester or 30 credits per year with the goal of graduating on time.
In 2012, UH campuses experienced an overall 14.7 percent increase in undergraduate students enrolled in 15 or more credits. System-wide, 10,699 students enrolled in 15 or more credits in the Fall 2012 semester as compared to 9,326 students in Fall 2011, according to a report released by the UH system. By the time Fall 2013 came around, more than 25 percent of the undergraduate students across the UH system were enrolled in 15 or more credits.
One of the major reasons for this push is the state's 55 by '25 campaign. It's goal is simple: to have 55 percent of working age adults statewide hold a two- or four-year college degree by the year 2025.
For 2015, KCC received $1,214,824 in overall funding through the initiative. As Vice Chancellor Pagotto explained, the money that the college receives is dependent upon the school meeting certain benchmarks that are set for them every year. The recommended target for degrees and certificates awarded that KCC had to meet was 835. In 2014, they exceeded that number by 81 percent, issuing 1,513 degrees. The school did not meet the requirements of issuing 319 STEM field degrees — coming up 19 degrees short— and lost out on $17,499 in funding for 2015.
In 2009, the UH system announced the adoption of reverse transfer at the UH System's community college campuses. Under the program, transfer students who are pursuing a bachelor's degree at a four-year campus are able to receive an associate's degree if they've already met requirements with credits earned.
According to university officials, more than half of UH community college students transfer to four-year universities like UH Manoa and UH West Oahu without an associate's degree.
What remains unclear is whether or not these auto-awarded degrees are counted among the degrees and certificates issued that count towards benchmarks for community college performance funding.
"There are a lot of new system level initiatives that are in line with the national trend," said Merrissa Brechtel, KCC Instructional & Student Support Specialist. "To get our workforce adequately trained to be contributing productive global citizens to help meet our communities needs."
Brechtel says that there are a handful of resources available to students to help them track their progress, or the time to degree completion. As part of an effort to provide guidance on required courses and to track time to completion, the UH system made its homebrew STAR system the official arbiter of degree completion starting this semester.
"It's vitally important that students get to know STAR, which students mainly use to just check their transcripts and grades," Brechtel said. "It's really important (because it) shows them what (courses) they have left to take.
In a memo dated July 8, 2014, UH President David Lassner stated: "Students will be able to rely fully on the information provided in STAR for their degree requirements and will be held harmless should any incorrect information in STAR negatively impact their progress to graduation."
Not only are students able to see what courses they've completed toward their degree, the recently added Graduation Pathway tool enables students are able to see the best schedule through which finish their degree. The graduation pathway tool automatically calculates what courses are needed to finish the degree, and what order the student should take those courses in.
"It made things so much easier to see what credits I needed," said Lam. "I was worried the paper (curriculum sheet) wasn't up to date and I wasn't taking the right classes I needed."
Brechtel says that the Graduation Pathway tool is a great resource that all students should use. By knowing what courses are required to take students can avoid taking courses that don't count towards their degree program.
"I see this all the time," said Brechtel. "When we're talking about time to completion, time is money. It's costing them (students) a significant amount of money, so unless they have a lot of money to burn, I'd advise students to really get to know how to read and use STAR."
The one current drawback to utilizing STAR is that currently all the data that it displays is input by hand with data from curriculum sheets that are supposed to reflect what credits have been earned. There certainly is room for error. Brechtel says that while it's not in the immediate future to integrate the UH Banner system with STAR, it is on the list of things that the university is exploring.
STAR isn't the only resource available to students. At KCC, there are over 35 counselors available to advise students in all the different fields of study that the school offers. The school website describes the job of counselors as working with students to find the best path to reach the students' goals and be successful. Counselors can help students by discussing new approaches to solving a problem they might encounter, either academically or otherwise. 
KCC holds one commencement ceremony a year, at the close of the spring semester. The way Merrissa Brechtel explains it, graduation is the official recording of an academic credential. It marks the actual ending of the time a student spent pursuing a degree through a program. Commencement is the celebration of that accomplishment or the formal ceremony that acknowledges that the student completed their degree.
"Participating in commencement is not mandatory," said Brechtel. "But it's a nice thing. It's a feel good thing. It's a celebration and recognition of that accomplishment."