By Mohammad Salameh, Kapi'o Staff Writer / 
Kapi'olani Community College's culinary program has long been one of the school's most prominent and successful offerings. In the not-so-distant future, this program could be a stepping stone to even bigger and better academic opportunities in the culinary field.
Earlier this semester, Gov. David Ige joined University of Hawai'i officials and local restaurateurs in breaking ground on the new Culinary Institute of the Pacific at Diamond Head, which will provide advanced culinary training and culinary management instruction.
Phase I of the project, scheduled for completion at the end of 2016, includes an advanced Asian lab, multi-function lab, support facility, parking, site infrastructure, umu pit, and farm plots. This first phase of the project will cost an estimated $25 million, according to CIP Director Conrad Nonaka.
KCC Dean of College and Community Relations Carol Hoshiko has been involved with the CIP project since its inception, serving on the projects' core team assisting with curriculum development, writing grants, fundraising, garnering community support, communicating with stakeholders, and updating the public on the status of the CIP project. She said the project means greater opportunities for local students.
"We want to make it possible for local students to have access to high-end training without having to leave the state," Hoshiko said. "That has been a problem for many talented students in the past because of financial constraints. We also wanted to provide culinary management, so students and returning professionals can get a bachelor's degree and have higher earning power and the ability to manage their own restaurant."
The 7.8-acre facility, located at the site of the former Fort Ruger Cannon Club, will eventually include an administration building, two additional labs, three classrooms, faculty office space, a cooking demonstration auditorium, a teaching restaurant, and additional parking.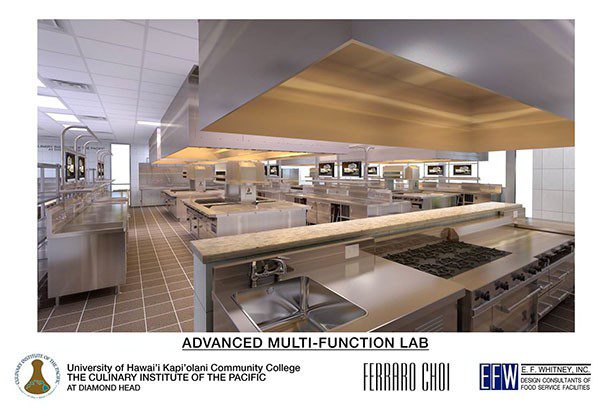 Buildings will be designed and constructed to meet silver certification standards under the Leadership in Energy & Environmental Design Green Building Rating System. Organizers hope the facility will one day have live cooking competitions, famous guest chefs, wine tastings, cultural performances, and more.
Funding for construction beyond the first phase has yet to be secured. Cost for the total project is estimated at $65 million, according the university.
CIP applicants will need to have completed an associate's degree in culinary arts from KCC or one of the five other UH community college culinary programs. Upon completion of an advanced three-year professional certificate at CIP, students can continue on for a bachelor's degree of applied science in Culinary Management at the University of Hawai'i-West O'ahu.
"This degree preps student and industry professionals for leadership roles in hospitality and restaurant industries," Nonaka said.
Nonaka said his ultimate goal is to introduce Hawai'i cuisine to the rest of the world.
"We want to give Hawaii's students the opportunity to expand their knowledge and experience to contribute to a strong and viable workforce for Hawaii's future," he said. "(We want CIP to be} a place where students, professionals and innovators from around the world will meet, collaborate and innovate, taking back to their countries an experience of  Hawaii's Food and Hawaiian culture."