By Adara Pineda, Kapi'o Staff Writer
Kapi'olani Community College's celebrated Culinary Arts program earned another high-profile recognition this semester when the federal Environmental Protection Agency awarded the program a certificate of achievement for its ongoing efforts in "preventing and diverting wasted food."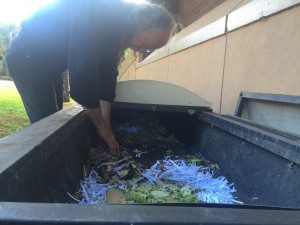 The program increased food waste diversion from landfills by 183 percent from 2013 to 2014, preventing 9 metric tons of carbon equivalent through techniques like vemi-composting, forced-air composting, waste oil conversion to biodiesel, and aquaponic systems.
Kathy Ogata, an assistant professor of chemistry, heads the biodiesel generation initiative, in which students explore alternatives to treat used oil and to create bio-diesel.
"It's a great opportunity for students who don't just want canned laboratory experiments," Ogata said. "They actually get to research."
Ogata walks her students through chemical reactions that create bio-diesel, exhorting them: "This is what you want to do, it's your job to find a procedure."
This semester Ogata and her SCI 295 class are testing methods to find sustainable applications for cooking-oil derivatives. For example, Ogata hopes to one day to use biodiesel made from used cooking oil to fuel buses that would shuttle between the University of Hawai'I at Manoa and KCC.
Evidence of the program's sustainability efforts is evident throughout campus. Walking along the road leading up to the upper parking lot, one can find a rich garden full of greens soaking up the sun's rays. Here organic vegetables thrive on nutrients from a handmade hydroponics system and on compose shoveled and sifted by student hands.
The initiative is led by culinary arts department chair Ron Takahashi and coordinated by Dan Brown, pastry chef instructor.
In 2013, KCC, UH Manoa and Hawai'i Pacific University joined the EPA's Food Recovery Challenge. The program, which includes 90 other colleges and universities as well as grocers and entertainment venues, is designed to reduce the amount of waste sent to landfills and incinerators.
According to the EPA, food waste accounts for 25 percent of all materials sent to landfills, where they decompose and produce methane, a greenhouse gas.
Yayoi Takahashi,a first-year culinary arts student, is one of the many students who help Brown maintain the edible garden.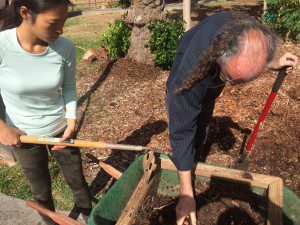 "I really like it," Takahashi said. "I'm excited now. I was always interested in sustainability but I didn't know what to do."
While students get their hands dirty by digging up and mixing organic matter for the compost, Brown teaches about how vital a sustainable living is for the earth.
"We need to be teaching the young people the skills they're going to need when they go out there," he said. "Every single day we can make a decision."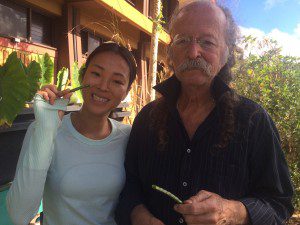 To learn about how to get started in sustainable living, or to get involved with the edible garden, contact Dan Brown at drbrown@hawaii.edu.