By Billy Liu, Kapi'o Staff Writer
At Kapi'olani Community College, future dental assistants are gaining valuable hands-on experience while providing volunteers the opportunity to get otherwise expensive dental X-rays for free.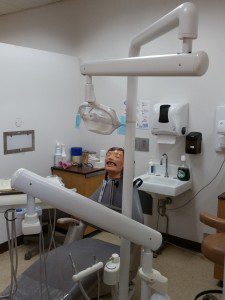 The Dental Assisting Program is accepts volunteers to serve as live subjects on whom students can practice administering X-rays, under the supervision of a trained professional. Services are offered from 8:30 a.m. to 1 p.m. each weekday.
"This offer is really important for visitors and dental assistants also because these are real scenarios," said dental assisting instructor Ann Kiyabu, who has 34 years of experience working in private dental practices. "Students are no longer messing with just manikins, but instead dealing with a real tongue and saliva. It's more realistic."
Students perform their work in a space outfitted with two dental chairs and equipment that closely mimics an actual dental office.
As dental assistant Louise Lai, who oversees X-ray training, noted, volunteers get something valuable in exchange for their time.
"This could help out a lot of people," Lai said. "Dental X-rays are expensive … costing from $100 to $130. Students can bring a flash drive so we can upload their X-rays, and then bring it to their dentist, which can save them a lot of money."
Dental assisting students are required to take X-rays on six patients to receive certification.
University of Hawai'i student Marko Corona recently visited the clinic to volunteer for X-rays.
"This program is great," Corona said. "Dental work is expensive and not a lot of students have good insurance. It's good that this school can provide it."
The Dental Assisting Program is a one-semester program that trains students for entry-level employment with a variety of dental care providers, including private offices, hospital outpatient clinics and government agencies.
The program was accredited by the Commission on Dental Accreditation of the American Dental Association as an accredited Certificate of Achievement program. Graduates are eligible to take the Dental Assisting National Board examination to become certified dental assistants.
While Hawaii does not require dental assistants to be certified, 38 other states do require such certification.
Five students are enrolled in the Dental Assisting Program this semester.
To sign up for a free dental X-ray, email kcckauila113@gmail.com or visit the clinic on Tuesday to make an appointment. Volunteers do not need to be enrolled at a UH system campus.