By Miyen Luu, Kapiʻo Staff Writer
Since 2004, the Freeman Foundation Community College Program has offered students at Kapiʻolani Community College and other two-year institutions in the University of Hawaiʻi system intensive language training, service learning opportunities and study abroad. (Click on the link for more about the Freeman Scholarship Program for UHCC students.)
The program was initially founded with a $3.6 million donation by Houghton "Buck" Freeman and his wife Doreen in memory of Freeman's father Mansfield Freeman, who co-founded the AIG insurance and financial services company. KCC Chancellor Leon Richards opened the program to all seven community colleges in the UH system, allowing  to students who do not attend KCC to participate.
"This program was established to bring about a closer connection between America and Asia." said Joe Overton, director of the Office of International Affairs and chair of the Honda International Center. "It's a life-changing experience."
Each year, up to 10 students are selected to attend KCC to participate in a two-semester program. In the first semester, students dedicate five hours a day, five days a week, to language study. In the second semester, students travel to the designated country to learn its history and experience its culture.
Being a part of the program requires students to dedicate plenty of time and attention to making sure they keep up with studies and do not fall behind.
Micah Jobe, who recently graduated from UH Manoa with a double major in Chinese language and international business, was a Freeman Program participant when he was still attending KCC.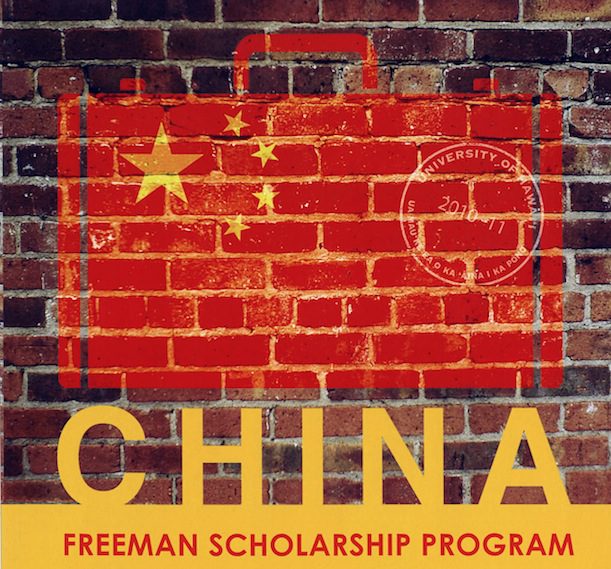 "I had stopped spending time with my friends and I would literally spend hours every night studying," Jobe said. "I even had a routine were I would get to school early to study and eat breakfast, as I lived about a five-minute drive from school."
Jobe said his biggest challenge was venturing out to China and using his knowledge of the language to interact with people on a day-to-day basis, as opposed to simply interacting with those in the program.
"Upon arriving in Shanghai, most of us had a pretty good grasp of the language, but the real test was actually going out of our comfort zones to speak Chinese with locals rather than hanging out with the other foreign students or Chinese students who only wanted to speak English," Jobe said.
Although the Freeman Foundation is intense and time consuming, it gave participating students experiences and lessons that'll last a lifetime.
"I made many new friends from all over the world, and experienced many new places and a great culture," Jobe said.. "I am so happy and grateful that I took the chance to apply for this program because it changed my life in many ways."