By Skye Kaupiko, Kapi'o Staff Writer
Virginia Kapo'oloku Po'omaikelani, sister of the 19th century Hawaiian Queen Kapi'olani, was as strong advocate for the preservation of Hawaiian cultural traditions at a time when Native Hawaiians were struggling to adapt to political, social, economic and educational changes brought about through Western contact.
Today, an innovative program at Kapi'olani Community College that bears her name is furthering Kapo'oloku's commitment to supporting Native Hawaiian learning by promoting personal growth and development within the context of Hawaiian social and cultural traditions.
"We need more supportive services to fill gaps and help students navigate what isn't natural," said Kapo'oloku program director Michaelyn Nakoa.
The program is housed in the Manele building and staffed with staff and student mentors specially trained to help students reach their goals and find success in the collegiate environment.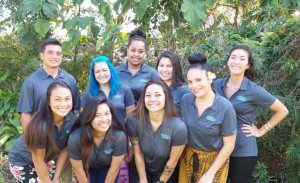 Although still relatively new, the program offers numerous services to support students, including the Walk-In Workshop.
The workshop helps students apply for financial aid and scholarships, complete the FAFSA application, and even write personal statements. The workshops are held every Friday, 9 a.m. to 3 p.m., in Manele 101.
"This program definitely helped me succeed in my educational journey," said peer mentor Landon Luna. "The mentors and staff constantly have my back and they will hunt you down because that's how much they want you to succeed."
The program has a computer lab for students who need computer and printer access on campus. The lab also has a loaner program that allows students to borrow a laptop for up to a week.
For those in need of community service hours or simply want to get outside and get dirty, Kapo'oloku maintains its own sustainable mala (garden). Three times each semester, the program organizes a Saturday community work day for students, staff or community members to volunteer time keeping the mala flourishing.
Among the latest additions to the program is the Ho'opili Hawaiian Club, which connects — or reconnects — students with Hawaiian culture through language and cultural activities. Participants do not need to be Native Hawaiian to join.
Kapo'oloku's caring ways extends beyond academics. Ever come to school late and forget to pack lunch? A'ole pilikia ("no worries"), the program has you covered.
Every Tuesday and Wednesday from 11:30 a.m. to 1 p.m. it offers a "Forgot Lunch" program, in which other programs around campus donate food items so students who forgot their lunch can grab a sandwich and chips.
"Kapo'oloku gives support ad foundation so that you can succeed," said peer mentor Kierra Sumida. "The advisors take time to help you with anything you need, and that's what makes this program so special.
Sumida, a 2015 graduate of Kamehameha Schools, grew up amid high expectations for her future success. She said her journey at KCC has been successful thus far because of the support from Kapo'oloku.
"Kapo'oloku becomes your family," she said. "You have somewhere to go and you always have someone to lean on."