By Jun Funahashi, Kapi'o Staff Writer
More than 900 community college educators and administrators converged on Kapi'olani Community College's Great Lawn on March 4 and 5 for the Hawai'i Strategy Institute, a large-scale forum designed to discuss the ways in which evidence can be used to guide policies, strategies and services.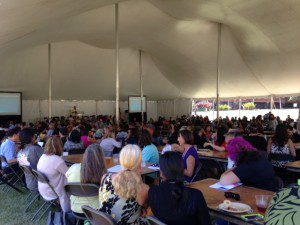 The event was presented by Achieving the Dream in Hawai'i and Wo Learning Champions.
Gail Mellow, president of LaGuardia Community College, opened the event by exhorting attendees: "Don't miss your time."
Achieving the Dream is a national initiative to improve student success at the community college level. The University of Hawai'i Community College system aligned with the initiative in 2007.
Achieving the Dream emphasizes the use of data to drive change, and is especially interested in closing achievement gaps through committed leadership, use of evidence to improve programs and services, broad engagement, systemic institutional improvement and equity.
The event included a broad range of workshops, addressing such diverse topics as teaching and learning in the classroom, accelerated initiatives, STEM, distance education, workforce development, transition programs (secondary to post-secondary, community college to university), graduation activities, Hawai'I Papa o Ke Ao, professional and personal development and other student success initiatives.
Individual workshops included STAR academic logic, implementing a co-requisite math course, and comic books and critical theory.
A broad range of expertise was also represented at the event, from Leanne Riseley, coordinator of Leeward Community College's Education Media Center, who discussed the Open Educational Resources Fellowship program to Noe Noe Wong-Wilson, Hawai'i Community College assistant professor and coordinator of the Halaulani Transfer Success Center, who share the secrets of his Fried Rice Strategy for Success ("If you cook, they will come!").
Among those in attendance were UHCC associate vice president of academic affairs Peter Quigley and KCC vice chancellor for academic affairs Louise Pagotto.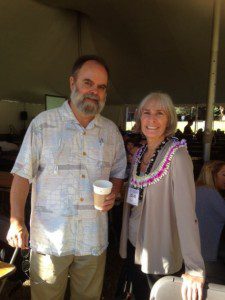 "Our goal is to improve our education system," Pagotto said. "Seven community colleges are involved in sharing good ideas to achieve our students' success."