By Elizabeth Samoa, Kapi'o Staff Writer / 
This October, about 60 male students, faculty and staff from Kapi'olani Community College took off their comfortable shoes and donned pumps, sandals and other female footwear to help raise awareness of violence against women.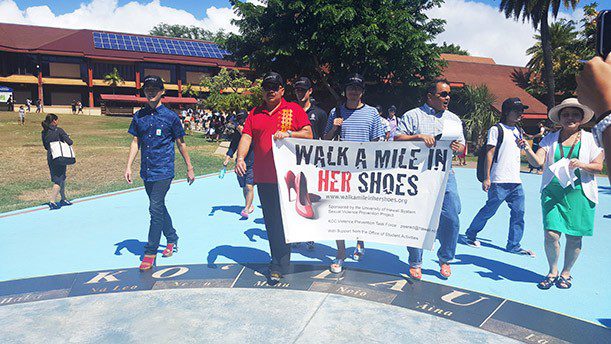 The event was presented for the third time at KCC by the Violence Protection Task Force (VPTF). It was part of an international effort to challenge perspectives about rape, gender violence and sexual assault, and to directly involve men in the effort to effect meaningful change.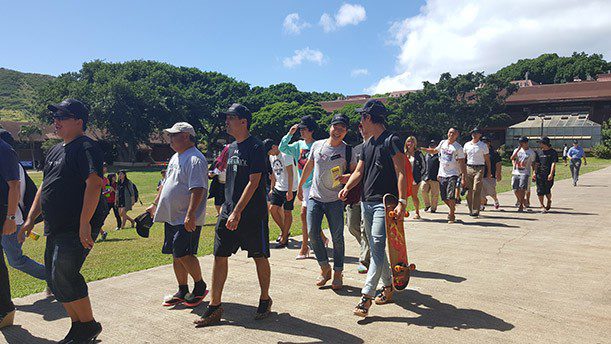 Participants, including a large number of international students, walked a literal mile around the Great Lawn. Many female students gathered to witness the men waddle in the hot sun to show their support for women. A group of female Japanese international students cheered them on and held up encouraging signs.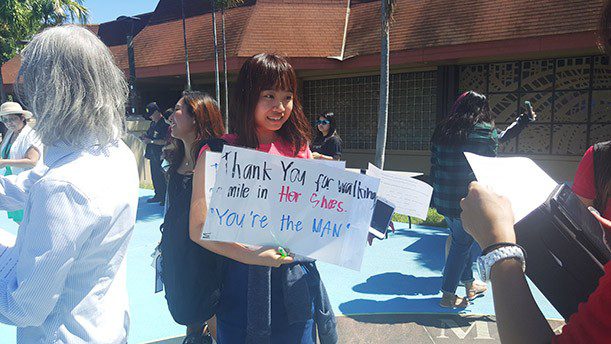 Representatives from radio station Island 98.5 and the Hawaii Federal Credit Union set up booths at the event to draw in students and promote the cause with raffles and prizes. Island 98.5 offered prizes to students who participated in playing their slot machine. Prizes included notebooks, water bottles, and drawstring bags. The grand prize for landing the triple seven was $25,000.
An Island 98.5's radio host also participated in a lap around the Great Lawn in a pair bright red heels.
"I'll never ask a woman to wear heels again," he said.
After the event, students headed into the cafeteria for a chance to sit and change their shoes. Two students, Jarred Yasuhara-Bell and Justin Perreira said the event was fun.
Both students are also Muay Thai instructors and are working with the VPTF to hold a self-defense seminar at KCC sometime in February or March of 2016.
Co-organizer and former co-chair of the VPTF Veronica Ogata said the event was a success.
Although there were not as many participants as the previous year, everything went as planned, Ogata said.
One problem the VPTF had this year was that the shoes provided to participants were getting old and worn. Organizers set out to find new shoes and received many donations from Goodwill, Ross, and Marshalls.
Ogata said she was very surprised and thankful for the support.
The biggest goal for an event such as the Walk-a-mile-in-her-shoes is to increase involvement. The VPTF is planning another big event next year in February based on One Million Rising. This will be a campus-wide event aimed at ending violence against women in the form of mass amounts of people dancing, similar to a parade.