By Billy Liu, Kapi'o Staff Writer and Kapi'o Staff
Following a vote of no-confidence by Kapi'olani Community College faculty and other authorized governance organizations, KCC chancellor Leon Richards announced that he was retiring from his position effective at the end of the Spring 2016 semester.
The announcement marked the end of several weeks of high-profile controversy during which KCC faculty leaders denounced Richards for lack of communication and failings highlighted in a recent faculty evaluation of the chancellor.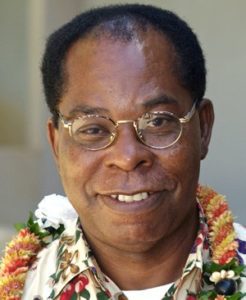 Richards' last day on the job was May 15. He will continue to report to Vice President for Community Colleges John Morton until his officially retirement on Dec. 1, 2016.
Vice Chancellor of Academic Affairs Louise Pagotto has been nominated to serve as interim chancellor.
Morton acknowledged Richards' contributions in a letter to KCC faculty and staff on May 4:
"Your leadership in developing the ASNS degree and STEM education pipelines, your development of Ka'ie'ie and other dual enrollment transfer programs, the Lunalilo scholars program, the commitment to sustainability and community, and the international education programs and Freeman scholars are but a few of many examples," Morton wrote. "I don't know how many times I have had community members thank me for the positive experiences of their children or family members at Kapi'olani Community College and for that I thank you."
The push to remove Richards was based on results from a recent University of Hawaii'i Professional Assembly Administrator's Survey, in which 78.4 percent of responding KCC faculty indicated they did not support the renewal of Richards' contract.
Among the criticisms leveled against Richards were accusations that he did not leave academic decisions to faculty, did not understand that faculty evaluation should not be tied to grades, did not support faculty to be effective instructors, did not provide adequate resources and support for achieving the college's mission and did not build consensus among faculty and staff.
On April 4, the executive committee of the KCC Faculty Senate approved a motion to initiate a vote of no confidence against the chancellor.
In the weeks that followed, several forums were held on campus to discuss the situation, including one hosted by the Student Congress under the direction of adviser Shannon Nakamoto and chairman William Arenivas.
"To vote for no confidence, it actually takes a lot of work," Arenivas told an audience made up primarily of leaders of student organizations on campus. "There are trust issues going on and we must take a stand."
Arenivas claimed that Richards repeatedly failed to attend meetings with the Student Congress. He also argued that funding has not been disbursed effectively.
"This is the second year of doing this and we still never had the chance to voice our concerns," Arenivas said. "Two-thirds of KCC students are liberal arts majors, yet we are still struggling for funding. There is a transparency for budgeting and we tried to sit down with the chancellor to discuss this."
Doug Barbieto, vice chair of the Board of Student Activities, acknowledged Richards' contributions to working with international partners and increasing international enrollment at the college, but questioned his priorities.
KCC has the highest percentage of foreign students in the UH system at 10 percent.
"He might be doing great things outside of campus, but why put out another fire if your own house is on fire?" Barbieto said. "It's time we do something about it than to watch our great leader run us to the ground."
A significant majority of respondents supported the motions of no-confidence put forth that the authorized governance organizations, including 81 percent of the Faculty Senate, 92 percent of the Student Congress, 78 percent of Kalaualani, and 72 percent of the Staff Council. The AGOs each adopted subsequent resolutions calling for Richards' ouster and sent them collectively to the UH Board of Regents chair Randall Moore, UH President David Lassner, and Morton on April 28.
Richards announced his retirement a week later.
"I believe Kapi'olani has competent and caring administrators, faculty, staff and students," Richards said in a statement released on May 4. "I want to sincerely thank each and every one of you for all that you do to make Kapi'olani and its heritage great. We as a campus and as a family need to continue to move forward with renewed energy and focus."