By James Ragasa, Kapi'o Staff Writer
Kapi'olani Community College students are expressing doubt and anxiety as University of Hawai'i mull yet another tuition increase.
The University has proposed tuition increases of 2 percent or less for each of the next three years in an effort to fund long-deferred maintenance projects. The proposed increases would be effective from the 2017-18 to 2019-20 academic years and would affect all 10 campuses in the UH system.
Currently, full-time resident students at KCC pay $2,880 per year. That amount would rise to 3,168 by the end of the proposed three-year span. Non-resident students would see their annual tuition rise from $7,872 to $8,304.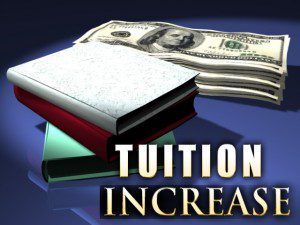 Under the plan, UH community colleges would use the tuition increases to eliminate current maintenance backlogs using revenue bonds.
A series of public meetings to discuss the proposal has been taking place at various UH campuses.
"Our tuition is at or slightly above the median for a comparable public institution," said vice president for academic planning and policy Risa Dickson at a public meeting at KCC on April 13. "Non-resident would be much more above, so we would want to consider what we charge non-residents as a way to stay competitive for students that come from out of state."
KCC Student Congress president William Arenivas, who splits his time between KCC and UH Manoa, viewed the proposal from two perspectives.
"As a KCC student, the tuition increase doesn't necessarily affect us substantially compared to Manoa," he said. "However, as a Manoa student, I would be skeptical of what the (UH Board of Regents) is doing to curb the tuition increase. This could also pertain to KCC students that become future UH Manoa students."
Nick Julian, who attends both KCC and Windward Community College, said the increases would put further strain on students who may already be facing financial hardships.
"It's going to be pretty hard for students to go to school with the tuition going up," Julian said. "I even think that some students might stop going to school due to financial troubles that might be caused by the tuition increase."
Other students were less concerned.
"The tuition increase will affect students depending on their own situations," said Donald Wier II. "I don't pay for my tuition, so I'm not sure how it will affect me. I'm just fortunate, I guess."
The UH system was hit hard by budget cuts dating back to the last economic recession. In 2009, UH had to cut $74 million from its budget when the Legislature reduced appropriations for the system by $46 million and then-Gov. Linda Lingle restricted an additional $50 in taxpayer funds (the cuts were offset by $22 million in federal stimulus funds).
In 2005, the BOR approved a plan that raised tuition by 141 percent over six years. In 2011, the BOR enacted another increase schedule intended to raise tuition by 35 percent over five years.
Last May, the University of Hawai'i Board of Regents approved a proposal from UH president David Lassner to reduce scheduled 7 percent tuition increases for undergraduate students this year and next year.
The move reduced the scheduled increase from 7 percent to 5 percent for the UH system's seven community colleges. Under the original schedule, resident tuition would have been increased from $114 to $122 per credit hour. With the reduction, students now pay $120 per credit hour.