By Marcus Watabu, Kapi'o Staff Writer
Kapi'olani Community College students with an interest in genetics and biomedicine have an opportunity to learn more about the field at DNA Day Hawai'i at the University of Hawai'i at Manoa on April 25.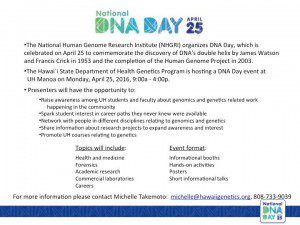 The free event, hosted by the state Department of Health's Genomics Section in celebration of National DNA Day and the 13th anniversary of the Human Genome Project, will take place from 8 a.m. to 3 p.m. at UHM Campus Center Executive Dining Room.
Organizers say their goal is to raise awareness of how genetics and genomics affect individual and community life, and to highlight academic and career paths.
"We are hoping to give students ideas about different career paths that are related to genetics," said event organizer Michelle Takamoto. "If you are really interested in the field, there will be plenty of people to talk to in order to gain some extra knowledge."
Among the organizations scheduled to participate in the event are the DOH Newborn Metabolic Screening Program, the UH Cancer Center, the Honolulu Police Department Crime Lab, the Department of Defense POW/MIA Accounting Agency, the UH Institute of Biogenesis Research and the UH Biology Department.
Presenters will include Kirsty McWalter, formerly of the DOH, who will discuss career opportunities in genetic counseling, and HPD Crime Lab DNA analyst Barrie Chua-Chiaco, who will lead a hands-on activity that demonstrates how genetics is used in crime investigation.
Games and giveaways will take place from 10 to 11 a.m., featuring opportunities to win Amazon gift cards. One hundred drawstring backpacks will also be given away.
For more information, visit: https://goo.gl/Atu2UT.