By Sara Leiva,  Kapi'o Staff Writer /
The University of Hawai'i at Manoa ranked 161 out of 1,376 U.S. colleges included in the latest U.S. News Best Colleges list. UHM's ranking is three spots higher than the previous year.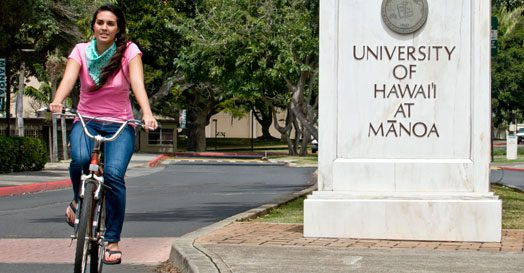 Released each September, the annual list is the most prominent and arguably the most comprehensive of several similar college ranking lists produced each year by different institutions.
Marketed as a way to help families determine the best academic value for their money, the U.S. News list is based on quantitative measures endorsed by education experts as reliable indicators of academic quality and the magazine's own criteria for value. Colleges are categorized as national universities, national liberal arts colleges, regional universities and regional colleges.
UHM was categorized as a national university, i.e., one that offers a full range of undergraduate majors, plus master's and doctoral programs, and emphasizes faculty research.
The rankings are based on information drawn from the National Collegiate Athletic Association, the Council for Aid to Education, and the U.S. Department of Education's National Center for Education Statistics, as well as surveys completed by faculty, staff and students at the universities.
According to the magazine, the overall criteria were weighted accordingly: undergraduate academic reputation (22.5 percent), retention (22.5), faculty resources (20), student selectivity (12.5), financial resources (10), graduation rate performance (7.5), alumni giving (5).
Not everyone agreed with the methodologies.
UHM business instructor Judith Mills-Wong was asked to observe characteristics and social skills of her students.
"I did not completely approve of the observations I was asked to speak upon," she said. "I have many students that are introverts yet, they are bright and creative. Just because some students are not as social or outgoing as others does not mean our school should get pushed down in the rankings list."
Mills-Wong said UHM should be placed higher in the ranking.
Princeton, Harvard and Yale took the top three spots on the list, followed by Columbia, Stanford and the University of Chicago in a three-way tie for fourth.