By Marcus Watabu, Kapi'o Staff Writer
The Sprout Sandwich Shop occupies a small, tightly packed corner space on Koko Head Ave, but they serve large, delicious gourmet sandwiches.
A dedicated cast behind the counter offers a variety of fun healthy sandwiches bearing unique names such as "The Lighthouse" or "The Fonz" that reflects that shop's warm, charming aura.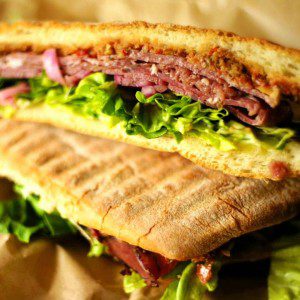 Owners Stef Leonard and Danielle Mariott take pride in their organic ingredients, which are locally sourced. Sprout's menu offers a ton of options for any customer's dietary preferences, providing a menu that also satisfies carnivores and vegans alike. The prices of sandwiches range from $7.50 to $9.50 and extra toppings are available for a nominal price.
"The Duke" is Sprout's spin on the classic BLT sandwich. The Duke consists of everything that is normally associated with a bacon-lettuce-tomato sandwich complemented with a large portion of oven-roasted turkey and dressed with sliced red onions and house mayo. Sprout recommends that first-time customers try the toasted, ciabatta bread. However, customers who have special dietary needs or who simply prefer a less toothsome bite also have the choice of gluten-free multigrain bread.
While "The Duke" is a fancy take on a classic sandwich, "The Fonz" aspires to other heights. "The Fonz" is a delicious Italian-styled sandwich composed of prosciutto, salami, pastrami, an assortment of veggies such as pickled red onions and lettuce, and topped with an ample amount of house mayo. The sandwich is well crafted and the choice of ciabatta or multigrain bread gives the sandwich a surprising amount of structure that keeps it from falling apart.
Another recommendation is the vegan "Sproutwich" sandwich. The combination of a vegan patty with locally grown sprouts, tomato, and cilantro-lime aioli creates a flavorful experience for people that enjoy a healthy, green sandwich. The vegan patty may worry meat-lovers at first; however, the sandwich also has a copious amount of BBQ sauce that provides a sweet-savory dimension without overpowering the other ingredients, ensuring the sandwich lives ups to the store's beverages, from cold-pressed lemonade — a welcome inclusion with hotter days approaching — to cappuccinos. They also sell an assortment of chips like Doritos or Sun Chips that are the perfect sidekick for a great sandwich.
Again, the Sprout Sandwich Shop is a small store, comfortably seating no more than eight people, so plan for takeout and head to the park for a nice picnic. The Sprout can also be quite busy during lunch hours and sandwiches can take up to 10 to 15 minutes to arrive depending on your order. To circumvent this issue, order online and take pride in the art of skipping lines.